Introducing Nexxa 9
With unsurpassed video quality and ease of use, the Nexxa 9 security DVR/NVR has all the features you would expect for a hybrid product plus an HDMI video output that provides crystal clear images.
Using standard CCTV camera technology? Using IP camera technology? Use both with this DVR. With 9 camera channels you have great flexibility.
UN: admin, PW: admin
NOTE: If using Firefox you may need to install the driver (you will be prompted), then restart Firefox. With IE make sure to enable ActiveX.
Nexxa 9 features include:
SATA HDD support (4x)
Wide IP camera support
Motion Detect support with up to 10 levels sensitivity
Supports keypad and joystick control for PTZ cameras
Plug & play IP camera auto-detect
Video + audio streaming
Multiple split-screen views
H.264 video compression
HDMI video output
Time & Event search
Free remote IR remote control, free management tools and content management system (CMS)
Standalone design using embedded LINUX OS
9-channels real time recording
H.264 compression
HDMI video output
4 standard audio channels (RCA connectors)
8 standard CCTV connectors (BNC for analog style CCTV cameras)
Connect up to 9 (max) IP cameras through LAN
Digital Zoom
Record modes: manual, motion, alarm, schedule
User defined motion detection area
Built-in web server allows remote viewing without buying special software
Multiplex operation: multi-camera playback, remote view, set-up, and back-up simultaneously
TCP/IP network interface remote viewing via client software and Internet Explorer (IE)
RS485 for PTZ devices
Download a DVR Specification Sheet by clicking the link below.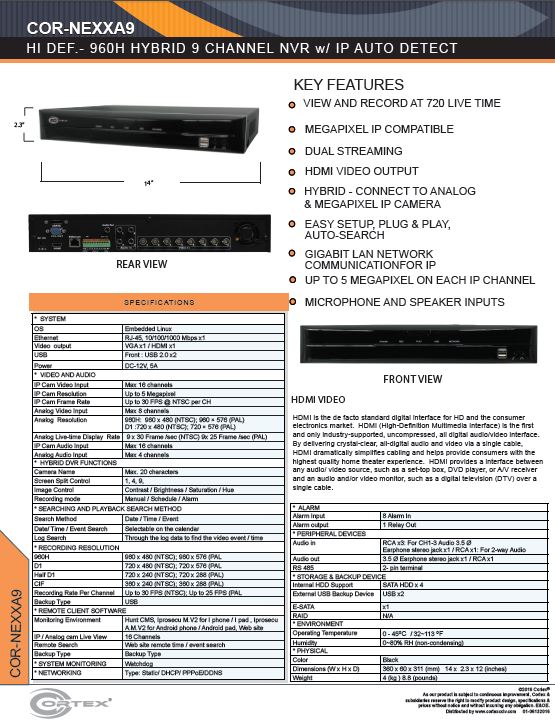 OUR FOCUS IS YOUR PROFIT
Cortex Security Solutions
OUR FOCUS IS YOUR PROFIT | Cortex Security Solutions